About Us
We strive to design, produce, and deliver products and services that meet or exceed specific customer expectations. Turn to your industry leader in air velocity measurement and management to benefit from:
Decades of Air Velocity & Engineered Airflow Expertise
Diverse Instrumentation & Design Solution
Excellent Customer Service & Quality Commitments
Full Production & World-Class Manufacturing Capabilities
International Reach with Our Global Partners
ISO 9001 Certified Processes
NIST-Traceable Calibration Standards
RoHS Compliant & CE Marked Products
Join Us On Social Media!
Stay informed on industry trends!
Our Channels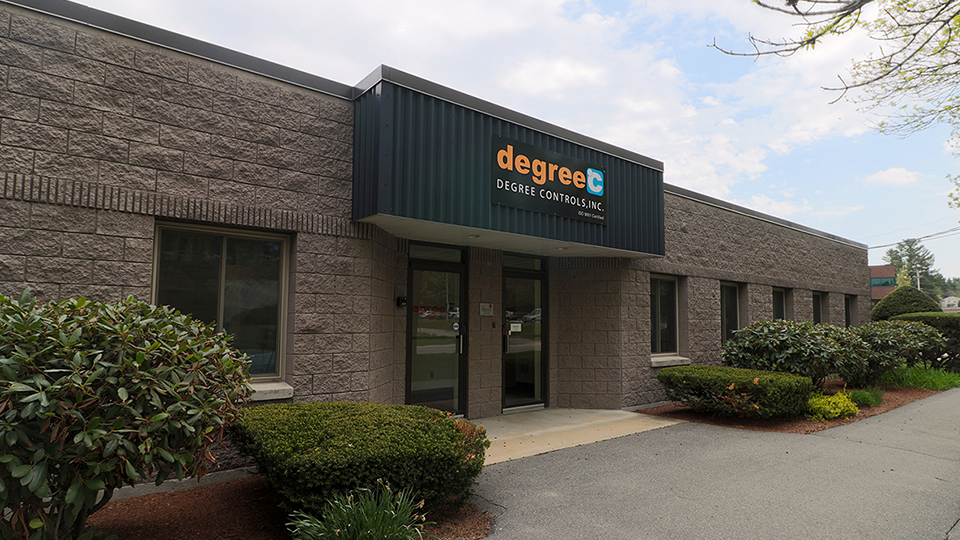 Headquarters
Degree Controls, Inc.
18 Meadowbrook Drive
Milford, NH 03055 USA
Tel:
(603) 672-8900 or (877) 334-7332
Fax:
(603) 249-9653
Email:
sales@degreec.com
International Locations
Degree Controls, Inc.
C4, Belhaven Gardens, Kowdiar P.O.
Thiruvananthapuram-695 003
Kerala, India
Phone
: 0471-2724661, 2724663
Emai
l:
sales@degreec.com
Degree Controls China
DaLiuShu FuHai ZhongXin Building #2,
Floor 12, 1208-028
Haidian District, Beijing 100081
Phone
: 86 10 62157030
Mobile
: 86 13601283313
Fax
: 86 10 62157030
Email
:
daisyding@degreec.com
美国迪格瑞控制有限公司北京代表处
北京市海淀区大柳树
富海中心2号楼12层1208 - 028室
北京100081
电话:010 62157030
手机:13601283313
Global Representatives & Distributors
Nihon-Denkei Co., Ltd.
ND Building 5th Floor, 5-14-12,
Ueno, Taito-ku, Tokyo, 110-0005, Japan
Phone
: +81-3-5816-2201
Fax
: +81-3-5816-0620
Web
:
http://www.n-denkei.com/
Singapore & South East Asia
Quest Technology (S) Pte Ltd.
177 Kaki Bukit Avenue 1,
Shun Li Industrial Park
Sentron Technology Instrument Co., Ltd.
8F No. 4 Alley 16, Lane 235 Pao-Chiao Road,
Hsin Tien New Taipei City, Taiwan 23115
Phone
: +886-22917-6563
Fax
: +886-22913-9895
Web
:
www.sentron.com.tw
Nano Technology Solution. Co., Ltd.
3F Sunwoo Bldg., 94 Hyeonsan-Ro Chowol-Eup
Gwangju-City Gyeonggi-Do, Korea 12734
Prakriti Tecnics India Pvt Ltd
104, Swarganivas Enclave, 7-1-619/A
East Srinivas Nagar, Ameerpet
Hyderabad – 500 038
Telefax
: 040 – 2373 8910 / 2373 1320
Email
:
praveen@prakriti.ind.in
European Thermodynamics Ltd.
8 Priory Business Park, Wistow Road,
Kibworth, Leicester LE8 0RX, United Kingdom

Phone: +44 (0)116 279 6899
Fax: +44 (0)116 279 3490
Tintschl BioEnergie und Strömungstechnik AG
Goerdelerstraße 21
D-91058 Erlangen
Phone
: +49 (0) 91 31 / 81 24 97 30
Fax
: +49 (0) 91 31 / 81 24 97 39
Web
:
http://www.tintschl-best.de
Wimesure
54 Rue de Versailles,
78460 Chevreuse, France

Phone: +33 1 30 47 22 00

DegreeC is part of NOVA Instruments
Founded in 2010, Nova Instruments is a premium quality provider of high-tech analytical instrumentation for a broad range of scientific and industrial applications serving the Aerospace, Automotive, Oil and Gas, and Renewable Energy markets among others. Nova Instruments' established brands design, develop, and manufacture industry-leading test and measurement systems that reliably gather mission-critical data across numerous applications such as Experimental Fluid Mechanics; Spray, Gas and Combustion Diagnostics; Strain/Stress and Non-Destructive Testing.
Other Nova Instruments Companies:

For more than 30 years, Stresstech has been providing instruments to measure residual stress and automated inspection solutions to identify grinding burn and heat treatment defects. The company supports its global customer base out of its offices in the US, India, and Germany as well as its Headquarter and Operations facility in Finland.

Dantec Dynamics A/S has been a pioneer in the development and production of state-of-the-art measurement equipment for scientific and quality assurance applications for more than 70 years, serving research and industrial customers worldwide through its offices in Denmark, Germany, France, United Kingdom, United States, and Japan.

Based in Huntington Beach, California, NDT Systems has been a leader for more than 40 years in the design and manufacture of innovative ultrasonic equipment for Non-Destructive Testing applications.

Established over 35 years ago in Warrington, UK to support the local Nuclear industry, Phoenix Inspection Systems manufactures premium quality ultrasonic Non-Destructive Testing equipment.