FlowMarker™
The FlowMarker™ is a portable, lightweight fogger for airflow pattern visualization testing. Generating fog at ambient temperature, the FlowMarker™ does not serve as a heat source and does not cause air to rise, but its fog follows the natural undisturbed movements of air. Unlike traditional smoke sticks, the FlowMarker™ fog is nontoxic, germ-free, and does not promote growth of organisms.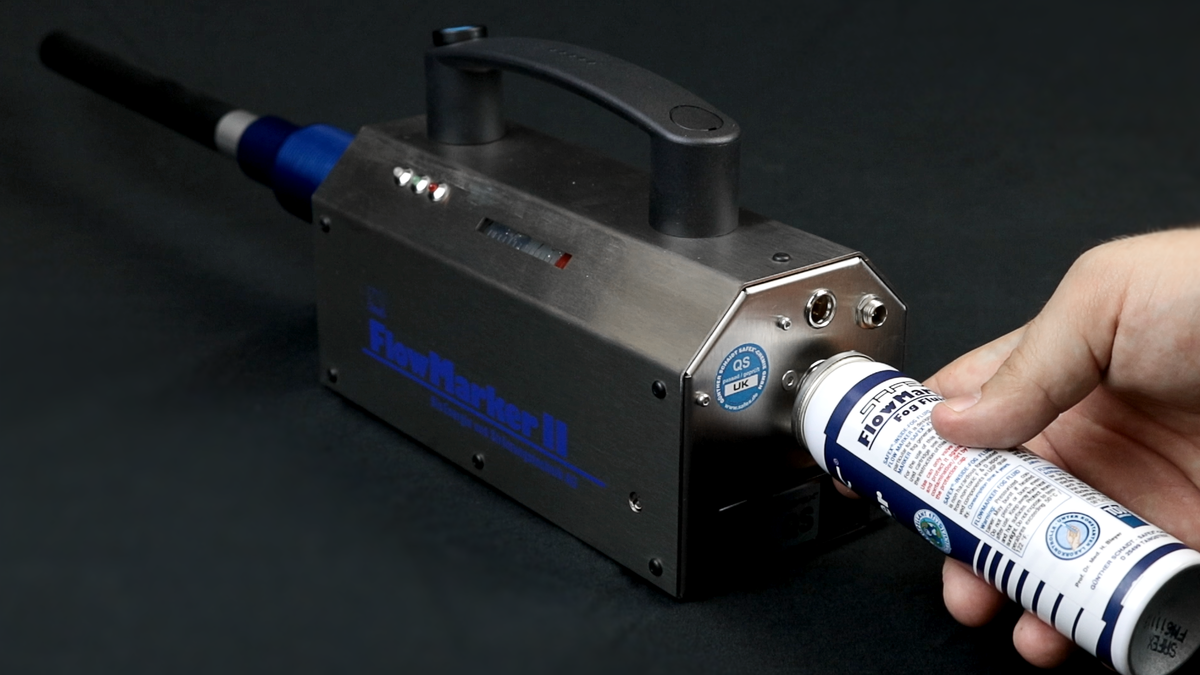 Tamper Proof
Only certified pure FlowMarker™ fluid can be used for refill, providing assurance of contamination-free testing.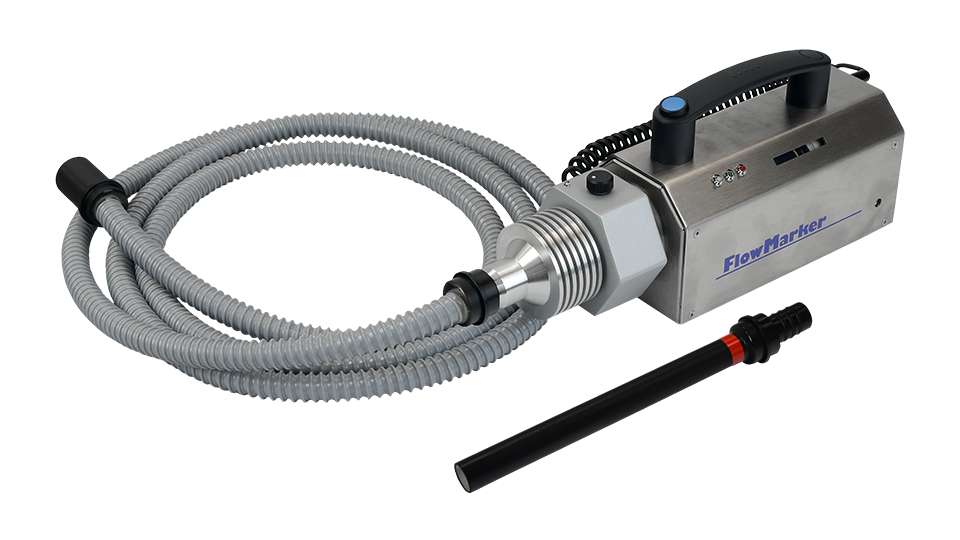 Hydra System
FM-Hydra Tube© System extends application range with a 3m hose nozzle
Specs & Details
More accurate airflow evaluation
Detect and "mark" air currents, without creating disturbances.

Fast
Visualize turbulence, directionality, and potential dead spots with the touch of a button.

Eliminates risk of contamination
Fog is non-toxic, bacteria-free, and breaks down completely into carbon dioxide and water.

User-friendly
Lightweight, small, and portable design allows operation in places that are awkward or hard to reach.

Proven
Successfully used in a wide range of demanding applications, including pharmaceutical development, electronics cooling, room ventilation, animal cage environments, clean rooms, and wind tunnels.

Tamper Proof
Only certified pure FlowMarker™ fluid can be used for refill, providing assurance of contamination-free testing.

From the Airflow Experts
Used in conjunction with degreeC's precision air velocity sensors, the UAS-series, the Flowmarker II™ is a perfect companion tool to visualize the flow profiles under study.
Flowmarker II™ Instrument Weight: 2.5 kg [5.5 lbs]
Flowmarker II™ Dimensions: 210 mm x 90 mm x 135 mm [8.3" x 3.6" x 5.3"]
Battery (Supplied): 12 VDC / 2Ah Pb rechargeable
Battery Charging Time: 14 hours
Fog Fluid Capacity: 16 mL [0.54 oz]
Fog Fluid Composition: Propylene Glycol – FDA GRAS
Fluid Consumption:

0.7 mL/min [0.02 oz/min]
Operates 20 minutes continuously with full fluid reservoir
420 cycles, 3 seconds each
Auto power-off after 4 minutes without activity

Warm-Up Time: 20 seconds

The Flowmarker II™ comes in its own transport case and contains:
Flowmarker II™ Device
Application Tube
Rechargeable Lead Acid Battery 12V DC
Battery Charger (International)
Tool for Removing the Condensate Rings
5x Pieces of the Condensate Ring (large)
5x Pieces of the Condensate Ring (small)
1x Aerosol can of FlowMarker-Fog Fluid
Instruction Sheets: Repair & Tank Overfilling
MSDS Data Sheet
Normal lead-time is 2-3 business days. Some accessories my have longer lead-times.
Downloads
Flowmarker Accessories
FlowMarker Replacement parts
Related Products